Accession:
1991.10.02
Catalog Date:
09/29/1994
Collection:
Stephens Collection
Item ID:
2—129
Notes:
From and e—mail — April 17, 2006:
Hello — My name is Linda Adams. My mother, Mary
Smith, and my aunt, Louise Smith, appear in some of
the photos on your site. In number 306, [Note: This is
2—129, but #306 in the Online Catalog.] Louise is
identified as Smyth. Both this picture and number 99
they are correctly identified and easily recognizable
to me. There is another picture, number 304, in which
they seem to be included, Louise being the fifth from
the left and Mary the sixth. They were born in '08
and '11. Mary passed in 1996 and Louise a few years
later. Georgia Nelson of the Estero Historic Society
sent me the site and I have enjoyed looking at the
pictures. I believe the Koreshans built the Estero
Inn for my grandfather, John Guy Smith Sr. in about
1911. I have been feeding Georgia information and
pictures and it is gratifing to have people there
interested in the history of Estero. I now live in
Georgia, having grown up in Fort Myers.
Print Size:
3.5x5.5
Description:
The numbers on the front of the photo correspond to the hand written list on the back: 1) Altha Horn 2) Irene Wyka 3)Wade Stephens 4) Louise Smyth 5)Cora Stephens 6)Eugene Wyka 7)Milba Horne 8)Florence Graham 9)Imogene Rahn 10)Naomi Wyka 11)Mary Smith 12)Alafae Stephens. [See Notes:]


People:
Horn, Althea
Wyka, Irene
Stephens, Wade
Smythe, Louise
Smith, Louise
Smith, Mary
Click to Enlarge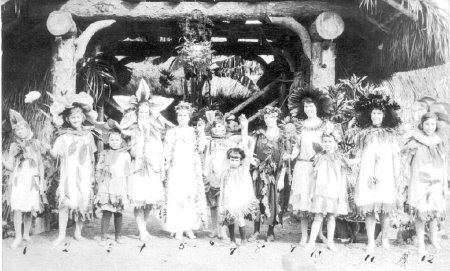 Koreshan girls dressed for sho